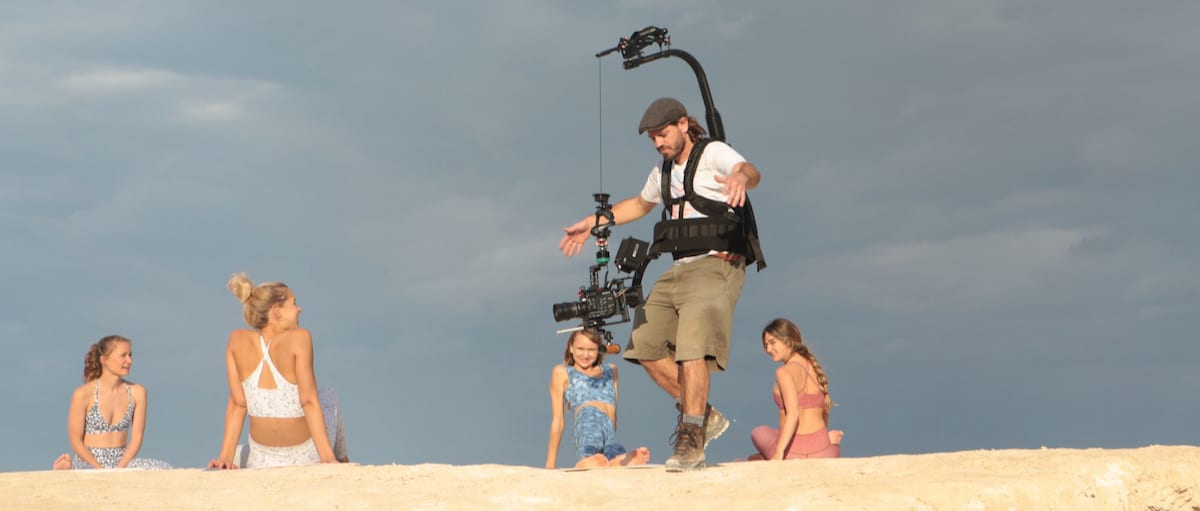 I enjoy drawing upon the latest technology and I bring a mixture of traditional techniques, along with more modern and advanced production methods, to tell stories in unique and interesting ways. I relish the technical challenges of working with specialist kit and I'm experienced in a wide range of filming techniques.
I'm always seeking to use the most advanced equipment while constantly developing my camera skills: ultra high definition cameras, high-speed / slow-motion cameras and stabilised gimbals both in the air and on the ground. I use these emerging technologies to film fresh and exciting sequences with the ultimate aim of bringing engaging and challenging stories to a wider audience. I am across all modern camera formats especially HD, UHD and 4K set-ups, working with modern large sensor cameras and prime lenses. Key camera skills include: presenter-led sync, hand-held observational, time-lapse, Gimbal work, aerial cinematography, long-lens behavioural work (wildlife).
My Aerial work is facilitated by the 5th Eye crew.  I fly under their CAA permissions with our group insurance and I can supply any drone package required at competitive rates.  Through this association I can also organise an array of other fun toys for mounting cameras to various tracking vehicles as well.  Just ask for more details
Time-lapse photography is a passion of mine. It is more than just a technique to bring life into landscapes – it's a powerful tool to create exciting sequences. Using my Canon time-lapse kit, with the Magic Lantern firmware, I utilise the latest processing techniques to produce stunning day-to-night time-lapses with three axis motion control where desired. I aim to create cinematic time-lapses that can be used to lift sequences, or used in their own right as a sequence.
I have a balanced understanding of the whole production process and, with career experiences as a shooter/editor in current affairs, I am used to crafting my footage with the insight of an editor whilst shooting. Editing has also given me a high level of expertise in current file-based media workflows which has proven to be invaluable on shoots as an additional skill. On location I'm confident when directing contributors and I have worked extensively with on-screen talent.
I'm happy to handle basic audio set-ups for shooting and will monitor levels effectively when required. I work well with directors, but also have good experience self-directing having produced many films as a self-shooting director. I have a keen understanding of narrative structure and storytelling, enabling me to make the most out of your sequence. Filmmaking, I believe, is a collaborative affair, and I relish the challenge of pulling all the threads together to produce films that are both informative and entertaining.
Cameras
Sony FS5 4K camera
Canon 5D Mark III (+ATOMOS ProRes recorder if needed)
GoPro 4 silver (2.7k)
Lenses
Canon EF 16-35mm f/2.8 II USM
Canon EF 50mm f/1.4 USM
Canon EF 24-70mm f/4 IS II USM
Canon EF 70-200mm f/2.8 IS II USM
Canon EF 2X Extender III
Metabones 'Speed Booster Ultra' EF-E mount adaptor
Aerials Cinematography Package
My Aerial work is facilitated by the 5th Eye crew.  I fly under their permissions with our group insurance and I can supply any drone package required at competitive rates.  Through this association I can also organise an array of other fun toys for mounting cameras to various tracking vehicles as well.  Just ask for more details
Camera Support
Letus Helix Gimbal – Stabilisation system in same class as mōvi pro with 7.3 KG (16 lb) payload.
Zacuto Gratical Eye – market leading viewfinder suitable for all pro cameras
Small HD 501 Full HD 5-inch LCD Monitor with Waveform
Satchler Tripod System (0745); Legs: ENG 75/2 D HD; Fluid head: FSB 8T
Movcam cage and universal shoulder plate system for both cameras
Kessler Stealth Slider traveller length (0.72m) with 'all-terrain' legs
Audio
Sennheiser ME-66 shot gun mic (directional)
Sennheiser EW-100 G2 radio microphone kit including lavalier mic and transmitter and shotgun mic transmitter
Juiced Link – Riggy-Micro RM222 audio pre-amp for high quality audio input for Canon DSLR with balanced inputs
Sennheiser HD-25 1 II headphones
Audio Technica AT875R Condenser Shotgun Microphone

 
Lighting Package (4 light kit)
2 x 1"x 1" light panels from F&V
1 x Westcott ice light 2
1 x Litepanels Mini High quality LED on-camera light
1 x small F&V LED on-camera light
4 x lighting stands 1 x Pelicase that fits whole kit inside